Hello Vermont. Please send syrup right away!
January 30, 2017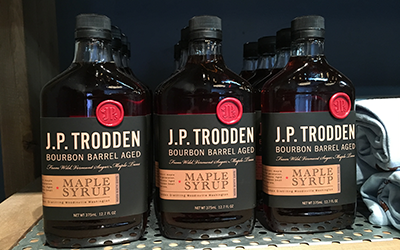 J.P. Trodden Bourbon Barrel aged maple Syrup has become quite a thing. It started off as a tasty way to get a second use out of our Bourbon barrels and has taken on a life of it's own. During the holiday season we sold record amounts of our syrup here in the tasting room and at several local Made in Washington Stores.
We have followers who swear they will never eat another pancake without our syrup and others who use it in cocktails like our Maple Old Fashioned featured in November's Sunset Magazine and available here in Woodinville at Tandem Wine Bar and Restaurant or they use it on ice cream, in cheesecake recipes, BBQ sauce etc. We even know one special little tyke by the name of Liam Huff who won't eat French fries without dipping them in that sweet Vermont goodness.
So the syrup has been flying out the door but don't worry, I think we have enough on hand to last until the next barrel is ready for bottling. On second thought I wouldn't take that chance. Better come and get it now.